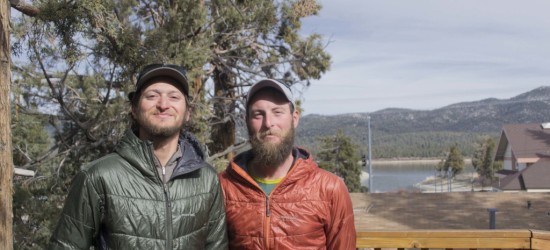 More than 90 percent of long-distance hikers who attempt to tackle the 2,650 mile Pacific Crest Trail start at the Mexican border, making their way north to the Canadian border. Almost everyone who attempts the daunting journey over the Sierra Nevada and Cascade ranges does so in spring and summer months.
What Shawn Forry and Justin Lichter are doing is unheard of.
Forry, 33 and Lichter, 34, are hiking the PCT from north to south, and they're doing it during the coldest months of the year. They started at the Canadian border in late October and expect to make it to the Mexican border around March 1. No other hikers are known to have accomplished this before.
"There's been a bunch of people calling us 'the crazy ones,'" Lichter said in an interview. He and Forry took a break to speak to The Grizzly when they passed through Big Bear on Feb. 20.
When they started walking in Washington last autumn, they never expected to make it all the way to Southern California. Forry said they estimated they had less than a 20 percent chance of finishing.
"So much has to line up along the way," Forry said. Hiking through snow and over mountains, Forry and Lichter knew the slightest twist of an ankle could derail their itinerary.
So why risk unpredictable weather and difficult conditions to head south during the winter? "Because that's what the birds do, right?" Lichter joked.
In truth, the pair was ready for a formidable challenge. Lichter and Forry have hiked a combined 50,000 miles or so on trails around the world. They have both completed the Pacific Crest Trail (in warmer weather) in years past, not to mention the Appalachian Trail, the Continental Divide Trail, and several other monumental outdoor feats. They also have adventurous careers—Forry is an instructor for the outdoor education nonprofit, Outward Bound, and Lichter is a ski patroller. Both men grew up on the East Coast, but moved to California for more outdoor opportunities.
"I just like being outside and seeing new places," Lichter said. "I couldn't even picture myself at a desk or in a cubicle."
But even with an incredible amount of experience, the two have had a number of difficult days since they set out four months ago. Near Mount Hood in Oregon Lichter and Forry were caught in a serious storm where they both ended up with frostbitten feet. "Ironically, that's one of the easiest sections of the trail and it turned into one of the hardest for us," Lichter said.
 Forry added, "We had a 'go go go' mentality at the beginning, and I think that was what caused our oversight that the storm was a little more serious than we were anticipating."
Forry and Lichter, who have been traveling 20 to 30 miles per day, faced constant rain and snow for the first two months of their journey. They alternated between hiking, snowshoeing and skiing. Snow was sometimes heavy enough they had to wake up in the night to dig out their own tents and sometimes thin enough they had to ski over rocks. Then came the desert. The past week, as they've traveled through 65 degree sunshine in Southern California, the hikers said they've felt overheated, having adjusted to below-freezing temperatures.
"It's been almost a tale of two trips," Lichter said, of the roller-coaster weather conditions they've faced.
With the most treacherous challenges behind them and the end of the trail within reach, Lichter and Forry said they have relaxed a bit. They have rewarded themselves with a few more breaks from the trail. They stayed two nights in Big Bear. When they arrived, they indulged right away in substantial quantities of Mexican food. They were also eager to check out the movie schedule at Village Theaters.
Lichter and Forry admit they've grown a little tired of camp food and are excited to finish their journey. But they already look back on their one-of-a-kind trek with nostalgia.
"Even to go through the some of the same places I know and see them in a different season was amazing," Forry said.
Both hikers said getting to see isolated parts of the trail after fresh snow had fallen made for unforgettable views. Being among the first hikers to experience that scenery in the way they did made it even more exciting.
As Forry put it, "The balance of the beauty and the challenges has been really rewarding."
Read this story on the Big Bear Grizzly